For cleaning da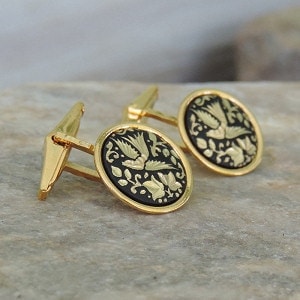 mascene, use a clean damp cloth or chamois and rub gently.  You may also add a drop of mild dish detergent to the water to remove dirt.
Jewelry cleaning cloths also work very well for cleaning and preserving Damasquino.
Lastly, be sure to dry the pieces thoroughly. Do not use any abrasive cleaners, as they will damage your damascene jewelry. Once clean, you may also use a jewelry polish cloth to restore its luster.
In addition to cleaning, the other component of keeping your damascene jewelry beautiful, is keeping it away from moisture. It is best to store jewelry pieces in individual jewelry bags to protect them.