Flamenco Accessories and Authentic Spanish Gifts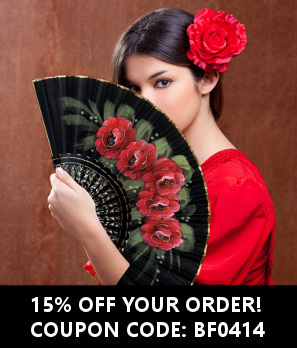 Welcome to Lands Far Away Imports, Inc. your online boutique for flamenco supplies and unique Spanish gifts.
Since 1999, we have served as a supplier of high quality flamenco products and authentic Spanish gifts. Our on-line store offers the largest selection of Spanish fans, large dance fans (pericon), hand painted fans, custom fans, damascene jewelry from Toledo, embroidered shawls, Spanish combs (peineta), mantilla veils, castanets as well as a variety of flamenco accessories. We also have everything from party favors to souvenirs for your Spanish celebration, wedding or Latin fiesta.  Take your performance to the next level or make your next special event memorable with an item from our flamenco boutique. The elegant eye catching product designs will be the perfect accessory for your event.
Lands Far Away Imports partners with our hand picked suppliers in Spain who share the same level of passion we do. We are committed to providing the finest quality imports and flamenco supplies sourced directly from Spain. Our on-line flamenco store prides itself in providing a large variety of high quality items as well as specialized customer care. Lands Far Away Imports, Inc. only works with qualified artisans who meet our standards of excellence.
High quality flamenco products MADE IN SPAIN
Our flamenco shop offers secure ordering
Products are in stock and shipped from our warehouse in Florida
Save on shipping costs when you order from Lands Far Away, Inc. located in the USA
Specialized customer care – we love hearing from our clients!
WHOLESALE PRICING AVAILABLE ON MOST FLAMENCO PRODUCTS